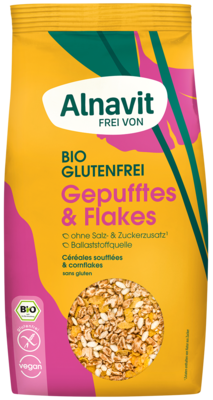 Puffs & Flakes
Certified organic
Gluten-free, vegan
Fluffy and crunchy
No added salt or sugar
Source of fibre
Organic Label according to EC Organic Regulation:
Our products are produced in harmony with nature and have been awarded the organic label in accordance with the EC Organic Regulation. This means in detail:
no artificial colouring, flavouring or preservatives.
no use of genetically modified organisms
no use of chemically hardened fats
products must not be sulphurised or preserved using ionising radiation.
Gluten-free:
Gluten-free Alnavit organic products are labelled with the crossed-out ear of corn of the German Coeliac Society (DZG). An independent laboratory carries out regular tests to ensure that the maximum content of the end product does not exceed 10 ppm prolamin (= 1 mg prolamin/100 g).
Vegan:
Vegan Alnavit organic products have been presented with the so-called "Vegan Flower" by the Vegan Society England, which is awarded worldwide. They do not contain any animal ingredients - this also includes animal by-products and substances which are produced on the basis of animal products. All these ingredients as well as animal testing are also not used during the production and development of the products.
energy (kcal)
energy (kj)
fat
- of which saturated fatty acids
carbohydrates
- of which sugar
fibre
protein
salt
Not prepared pro 100 G

383 kcal
1617 kJ
4.90 g
0.80 g
72 g
0.60 g
6.50 g
9.40 g
0.01 g
About the product
Get ready to mix up your breakfast options with our certified organic, gluten-free Puffs & Flakes – for everyone who can't decide between fluffy or crunchy and want both in their cereal! With puffed oats, quinoa and rice plus crunchy cornflakes, this versatile cereal mix is perfect as a muesli topping or just on its own with milk. Providing plenty of natural fibre, Alnavit's Puffs & Flakes also contains no added salt or sugar.