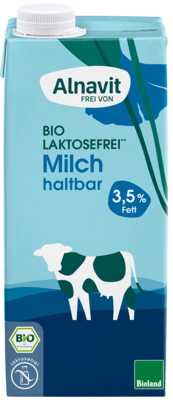 Full Cream Long Life Milk
organic quality
lactose-free
fair milk price
Organic Label according to EC Organic Regulation:
Our products are produced in harmony with nature and have been awarded the organic label in accordance with the EC Organic Regulation. This means in detail:
no artificial colouring, flavouring or preservatives.
no use of genetically modified organisms
no use of chemically hardened fats
products must not be sulphurised or preserved using ionising radiation.
Lactose-free:
Lactose-free Alnavit organic products contain a maximum of 0.1 g lactose per 100 g.
Ingredients
Contents: 1 l
WHOLE MILK*, lactase *from organic agriculture
energy (kcal)
energy (kj)
fat
- of which saturated fatty acids
carbohydrates
- of which sugar
fibre
protein
salt
Not prepared pro 100 ml

64 kcal
267 kJ
3.50 g
2.30 g
4.80 g
4.80 g
0.50 g
3.30 g
0.13 g
About the product
Alnavit lactose-free long-life alpine milk with 3.5% fat combines the very best taste with high organic quality that goes beyond the statutory requirements. Exclusively, the cows are given natural feeds and reared humanely – in smallholdings with an average of fewer than 20 cows per farm. To help ensure that the farmers receive fair payment, the milk comes from a cooperative dairy, managed to 100% by the men and women who work it.