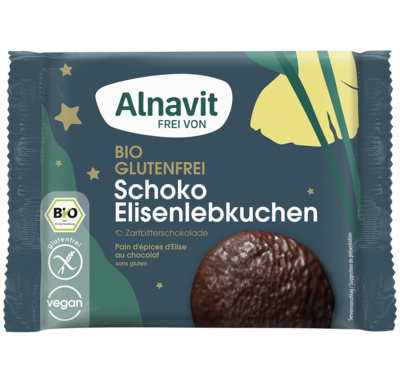 Chocolate Elisen Gingerbread
organic quality
gluten-free, vegan
with plain chocolate
nutty and juicy
with 27% roasted hazelnuts
Organic Label according to EC Organic Regulation:
Our products are produced in harmony with nature and have been awarded the organic label in accordance with the EC Organic Regulation. This means in detail:
no artificial colouring, flavouring or preservatives.
no use of genetically modified organisms
no use of chemically hardened fats
products must not be sulphurised or preserved using ionising radiation.
Gluten-free:
Gluten-free Alnavit organic products are labelled with the crossed-out ear of corn of the German Coeliac Society (DZG). An independent laboratory carries out regular tests to ensure that the maximum content of the end product does not exceed 10 ppm prolamin (= 1 mg prolamin/100 g).
Vegan:
Vegan Alnavit organic products have been presented with the so-called "Vegan Flower" by the Vegan Society England, which is awarded worldwide. They do not contain any animal ingredients - this also includes animal by-products and substances which are produced on the basis of animal products. All these ingredients as well as animal testing are also not used during the production and development of the products.
Ingredients
Contents: 75 g
HAZELNUTS* roasted 27 %, dark chocolate* 19 % (cocoa mass*, raw cane sugar*, Cocoa Butter*), raw cane sugar*, candied orange peel* (glucose syrup*, orange zest*, table salt), candied lemon peel* (glucose syrup*, lemon zest*, table salt), apricot jam* (raw cane sugar*, apricot pulp*, lemon juice concentrate*, gelling agent: pectin), marzipan* 6 % (ALMONDS* 52 %, raw cane sugar*, Water, inverted sugar syrup*), ALMONDS* roasted 5,6 %, gingerbread spice* (cinnamon*, coriander*, anise*, cloves*, ginger*, fennel*, allspice*), wafer* (potato starch*, cornflour*, corn starch*), raising agents: ammonium hydrogen carbonate and sodium hydrogen carbonate *from organic agriculture
energy (kcal)
energy (kj)
fat
- of which saturated fatty acids
carbohydrates
- of which sugar
fibre
protein
salt
Not prepared pro 100 g

509 kcal
2119 kJ
32 g
6.90 g
44 g
32 g
8.30 g
7.10 g
0.17 g
May contain traces of egg, soya, milk, other nuts, sesame and lupine.
About the product
What can make gingerbread even more delightful? A coating of plain chocolate and extra hazelnuts! Traditionally made Elisen Gingerbread from Alnavit – nutty and juicy, with typically aromatic gingerbread spices on a fine wafer – puts you straight into that Christmas mood at the very first bite. Our gluten-free, vegan Christmas cookies in organic quality that leave nothing to be desired!